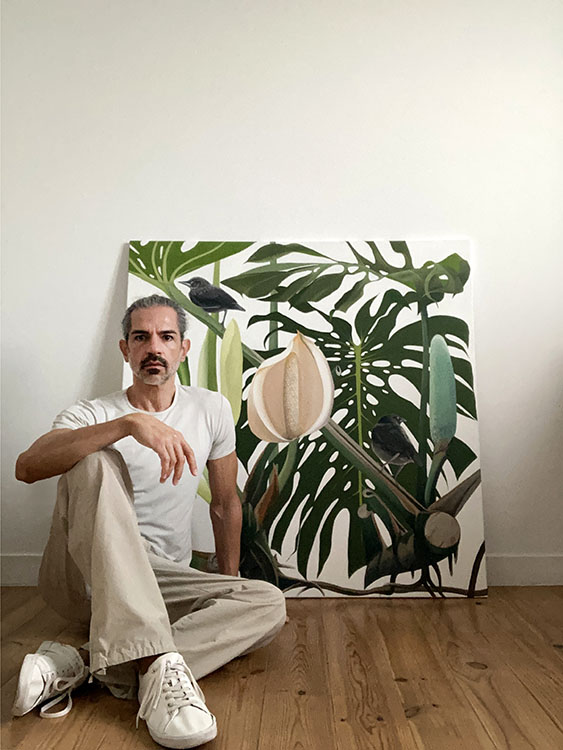 Adonis Galvão, visual artist born in Brazil in 1972, has a background that ranges from social communication to visual arts.
Multicolorism illuminates his painting where the palette in the lively tones of nature and the neutrality of constructive spaces references the tropicalist mix, but emphasizes the contemporary noises of our time.
His work reflects visual research, intertwining collective and art histories, connecting present and ancestral past, perceiving human interference in nature.
Integrating geometric and organic forms, the compositions point to movements of fauna, flora and humans, as they establish themselves in territories constituting new biomes and identities.
Analyzing this Atlantic flow of bodies and nature, the work seeks to expand narratives to realign the balance in power relations.
BIO
Adonis Galvão was born in Cataguases (Good people in Tupi), Minas Gerais, Brazil in 1972. To a Brazilian mother, from Serra da Onça, Zona da Mata Mineira and a Portuguese father, he lives on Madeira Island, Portugal. In Rio de Janeiro he took several courses and in São Paulo he specialized in Design, creating visual identities for various areas, including Art and performed as a model for artists. Attendance at a painting studio defined the direction of the work.
He uses painting and geometric constructions to weave visual narratives of the intersections between biomes and identities across the Atlantic territories. Based on his Portuguese-Brazilian origin and indigenous and African ancestry, he researches history and contemporary relationships.
He held a solo exhibition "Phoenicopteridae" on the island of Madeira in 2022.
EXHIBITION
Individual/BOROGODÓ
09/11/23 - 17/11/23
FUNCHAL CITY HALL ATRIUM
Praça do Município
Funchal-Ilha da Madeira-Portugal
SUPPORT JOÃO CARLOS ABREU ASSOCIATION
LINK
Individual/PHOENICOPTERIDAE
15/12/21 - 15/01/22
Cultura no Centro/Soane Sierra Project/Madeira shopping
Funchal-Ilha da Madeira-Portugal
LINK
ARTISTIC RESIDENCE
Residence at the painter Nanzita's studio
Centro Cultural Sicoob Coopemata
Maio/2023
Cataguases, Minas Gerais-Brasil